Whether it's newborn pictures or Christmas pictures, it's always difficult to determine how to dress your baby for a photo shoot. Here are tips from a wonderful photographer!
You have booked a portrait session for your baby? Congratulations!
The next question is "how should I dress my baby?" Clothing plays an important role in how your final images will look. Here are a few tips for choosing the best outfit!
This is a guest post by Camille of Camille CD Photography. Located in the Upper West Side of Manhattan, NYC, Camille CD Photography focuses on maternity, newborn, baby, motherhood and family photography. Camille specializes in the creation of portraits in a pure and classic style and her signature look strives to capture your family's love, emotions, and connections.
1. Neutral and Soft Colors
Neutral and soft colors are usually the best choice:
They look beautiful on all skin tones
They will allow your baby to be in the spotlight of the portrait
They are classic and timeless and complement all interiors style
What are neutral and soft colors? White, beige, grey, and pastel colors such as light soft blue, soft pink, and other light colors are a great choice!
2. Texture and Material
I usually recommend natural material whenever possible. Cotton, linen, silk, and wool photograph beautifully and add some texture to the images. They are also soft and safe on babies' delicate skin.
3. Shoes
Should baby wear shoes? It depends on the type of photo session! If your session takes place in a studio, barefoot is usually the best option. Baby feet and toes are adorable and it is a cute detail that I love to capture! If the session is outdoors, coordinate with your outfit. I usually recommend avoiding sneakers, unless it is the style that you really want to see in your final portraits.
4. Props and Toys
Props and toys can be very handy during baby sessions. It can keep their little hands busy and avoid the hands being in the mouth, especially when the little ones are teething. Choose props that you like and you hope to still like in 20 years when you look back at your portraits. For example, a wood toy or a blanket is perfect for playing peek-a-boo and keeping baby happy and entertained. Bringing a baby's comfort toy or blanket is also a great way to keep a memory of this special object.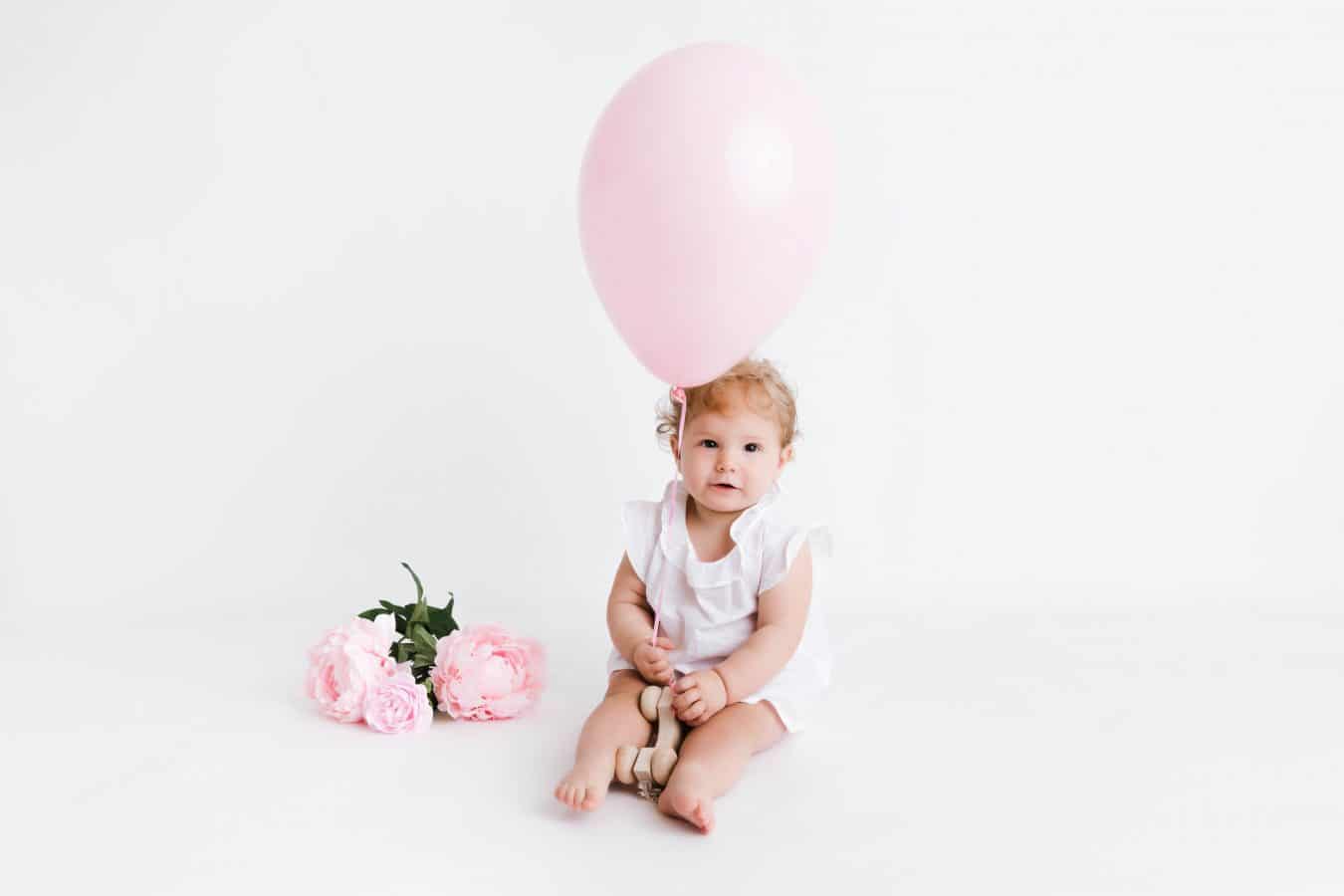 5. Family Portraits
If family members join the baby in a few photographs, all the above apply. Neutral and soft colors are a good choice. I recommend mixing and matching colors while staying in the same color tone. Wear clothes that you feel comfortable in and that are flattering to your shape. In my NYC studio, I always encourage moms and dads to be in the images as these are always the most treasured!
6. What to Avoid
Heavy patterns, logos, bright and dark colors (unless you have a specific vision or artistic look in mind) should be avoided. Synthetic fabrics like nylon, polyester, and acrylic are also not recommended for babies.
7. Ask Your Photographer for Recommendations
You most likely chose your photographer according to their portfolio. What types of colors and tones do you see on their website? It should give you the inspiration to find an outfit for your little one.
Your photographer is also there to help! Do you need ideas? Ask him/her! Many professional photographers are used to helping with outfit coordination and are more than happy to advise!
Nowadays, some boutique photographers also have a 'client closet', with beautiful clothes ready to be worn for your photo session. No hassle to shop for the perfect outfit; you just have to show up and change.
8. Where to Shop
Depending on the budget and the look that you want, here a few options that I love:
For the whole family:
Zara
Gap
Nordstrom
H&M
JCrew
For moms:
Asos
BHLDN
Lulus
Free People
Anthropologie
For baby:
Janie and Jack
Jacadis Paris
Petit Bateau
In Summary
Less is more
Ask your photographer for advice if you need inspiration
Consider choosing a photographer with a client closet to avoid the hassle of buying and coordinating the outfits for your photography session