Getting a new puppy or dog is so exciting for the whole family. Congratulations!
You are bound to have different questions about the unique way to bring a new puppy and to assist them in settling to the new home fast. Here is our guidance for welcoming your new puppy to your house.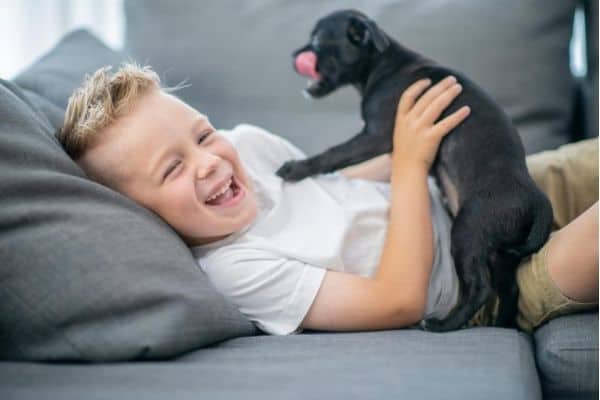 Though it is always mind-blowing to get a new dog or puppy to your family, it is essential to prepare appropriately for the new addition. Let us discuss some tips and do stuff right from the first day to evade behavioral issues in the future.
Checklist for Your New Dog
The first thing comes first – before welcoming a new dog or puppy into your place, you will need to buy a few things! I suggest the below-mentioned dog essentials:
Dog Safety Tips
Adopting a dog is a big choice, and before committing, you must consider pet safety tips.
Welcoming a New Puppy to Your Home
Dogs are friendly creatures and animals of habit. They pick up through association; hence a predictable and stable environment can assist in settling your puppy and cut their anxiety levels. It is essential to know that you are bringing a puppy into your place that cannot speak the language that you understand – they will not have an insight into what it is you want from them. Don't forget! They have only been detached from their previous owner and parents/siblings so that they can feel different emotions.
Endurance, with reward-based and positive training, is essential in helping the puppy adjust in and develop into a stable adult that has a strong bond with the owner.
The First Step to Bring Home a New Puppy
Preferably, get a new dog/puppy in the morning, so they have a whole day with you and your family to see their new place and start adapting before bedtime.
Welcome your puppy into your home and let them visit each room, mainly concentrating on the space where you keep different resources – water/food bowls, bedding, toys, access to a garden, etc. Significantly, the dog is aware of the stuff and how they can escape to if they are anxious.
Quiet and calm behavior from children and adults will reduce the puppy's nerves. Just leave them to enjoy their time, but be there so the dog can come to you if they need comfort. If they look hesitant to explore, encouragement and gentle praise can benefit. The best thing is to evade rushing them. Let your puppy adjust in your space.
When your dog appears settled and has had a great look around, you can begin with your normal routine regularly – regular trips of the toilet to the garden, nourishing when it is due, training, and of course, playtime! The dog will settle comfortably on the first night if they are drowsy.
Introducing Kids to a New Puppy
Reasonably, the young kids will be happy to see their new dog, but it is essential to let them know the importance of staying relaxed around the new puppy. Teaching your kids to interact appropriately and safely with the puppy will help to evade future accidents.
Children and dogs can live together comfortably, but you need to be very careful. Clarify them how to approach the dog, how to love them safely and calmly; their eagerness can rub off on the pet – and a feverish dog may bouncily nip or scratch.
An excellent setup is to inspire the kids to sit on the floor and let the puppy walk around them. No hair pulling, holding the dog or picking it up. Don't forget! They will deal with many "firsts" in a day and maybe conscious.
Allow your puppy to walk around in his or her own time. If they no longer want to interact, make sure to admire the decision and let them play with the toys or rest.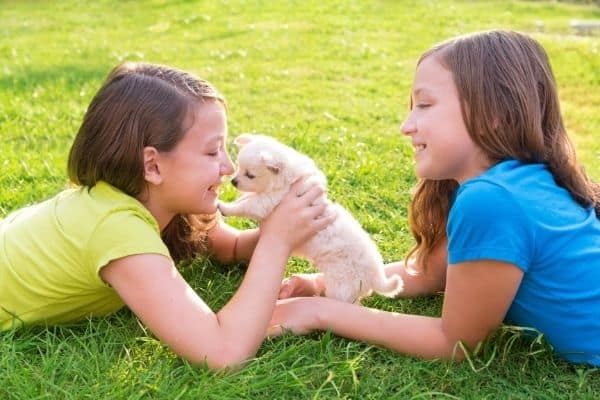 Familiarizing a New Puppy to Other Dogs
If you are bringing a new puppy to your place where they would not be the only dog, there are additional steps to be taken in introducing the puppy to its new home.
Take them for a Walk
If your dog is fully vaccinated and slightly older, you can take them for a walk with the resident dog so that both can meet on the same ground. They will possibly be too preoccupied with all of the smells to note each other a lot.
If you cannot do this, you can take your new puppy into your home when the other dog is sleeping/go out for a walk.
Let your puppy wander all around, following the previous recommendations written above. Then, when it's time to bring in your other dog, remove the chews or toys – in case the resident dog turns out to be self-protective.
Allow the Dogs to Feel the Scent of New puppy
Put the resident dog in a garden, where they can smell the scent of the dog and adjust to it. Take out the puppy on a lead if you consider they may be excessive for your old dog to cope with. Lay the dog on the floor and sit alongside. Reward positive interactions and sniffing between the dogs. It is excellent not to have food present in case they argue – you can bring them together at a later phase.
Stick with strokes and verbal praise for now. Observe their behavior and detach them if one dog appears anxious. If you want to isolate them, you can separate them from each other using your praise and voice.
If you have many dogs, it is excellent to familiarize your new puppy to each dog in phases and to take some time to feel each other's aroma. Your vet will let you know in detail the excellent ways to do it.
Do Not Leave the Dogs Unattended
Feed the new puppy distinctly to other dogs until they are used to one another – and do not leave all the dogs unattended until you are sure that they are happy and secure in each other's company.
Well! There is no contest for a place to sleep or food; you must find the dog learn to endure other dogs – and, in most situations, they can go on to be good friends.
Your new puppy will take some time to discover and get used to your family and home. Making a steady introduction is a great way to make your puppy happy and to avoid any behavior issues in the future.
The Verdict
According to Charles M. Schulz, "Happiness is a warm puppy." Make your dogs happy. I hope you have got some fantastic pet safety tips that you can follow before introducing a new puppy or dog to your home and family.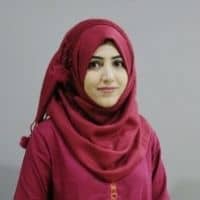 Sheza Hanif is a professional and experienced writer who writes for Dry Dog Food Reviews. Dry Dog Food Reviews offers the Best Dry Dog Food Reviews that are highly researched and factually backed for dog owners.
YOU MAY LIKE: