This cupcake liner Christmas tree ornament craft is a special way to add handmade décor to your Christmas tree. Your kids will love seeing their own creations hung up on the tree!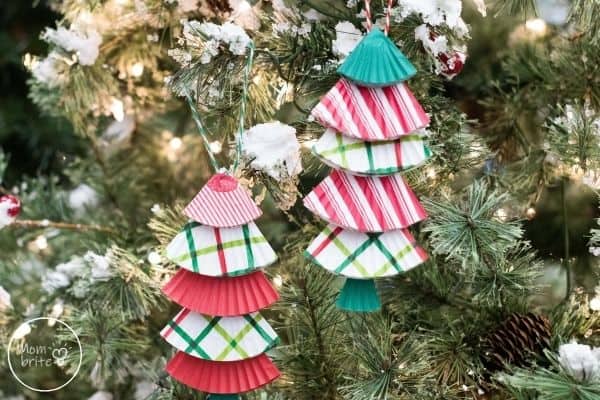 Christmas crafts are a fun way to spread cheer and get creative this holiday season with your kids. However, while making lots of Christmas crafts is a wonderful way to spend time as a family, it can get expensive.
With just some cupcake liners, popsicle sticks, and glue, your kids can make this adorable cupcake liner Christmas tree ornament craft. Since it is so quick and easy, it's the perfect way to introduce your child to the holiday traditions of crafting and decorating.
Whether you're crafting with just your kids or a group of students in a classroom, this colorful ornament is a fun way to make festive memories.
Christmas Tree Crafts
These easy-to-make ornaments are a great way to add some cheer to your tree. They also make great gifts for teachers, friends, and family.
The best thing about these cupcake liner Christmas decorations is that you can embellish these "Christmas Trees" with pom poms as ornaments or pipe cleaners as colorful tinsels.
You can use any colors you like (if you want them in different colors) but we used red and green because it's the most festive time of year. These would be perfect as classroom party favors at holiday parties too.
Cupcake Liner Christmas Tree Ornament Craft
Making a unique ornament for your Christmas tree is easy with a few inexpensive supplies that you can find easily at your local craft store or better yet, have them delivered to your door by Amazon (links below). You might even have these common items already in your home.
Materials: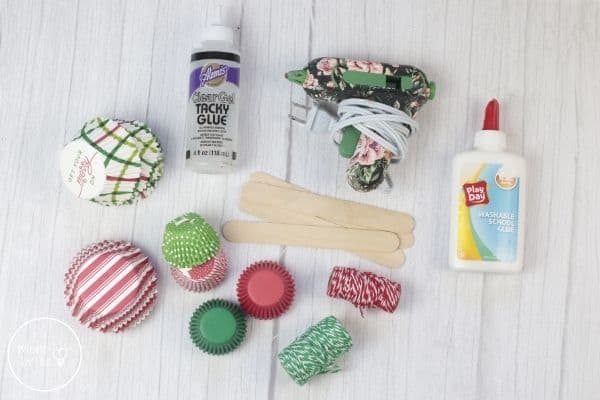 Instructions:
1. Flatten out a standard-size cupcake liner and fold it in half.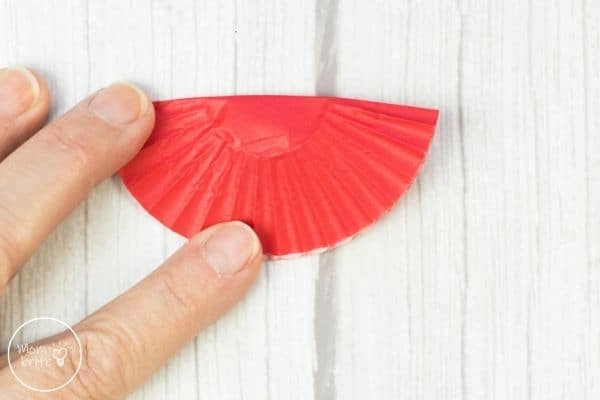 2. Fold the cupcake liner again to form a triangle shape.
You may want to use a ruler or a popsicle stick along the folds to make a flatter crease. This will make the cupcake liner lay flatter.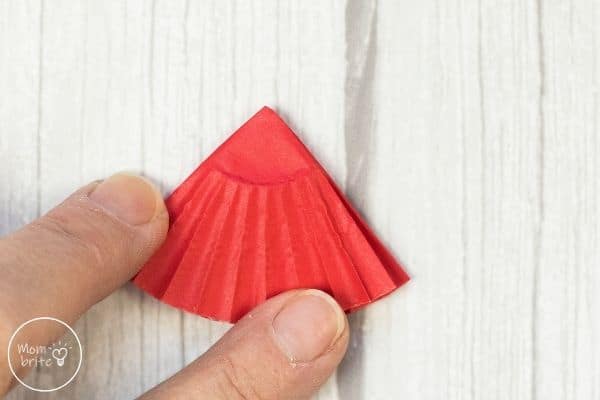 3. Repeat steps #1 and #2 for all of the cupcake liners. I suggest making 3-5 layers depending on how tall you want your Christmas tree.
4. On the open side of each folded cupcake liner, apply a small amount of glue and press down for a few seconds to secure.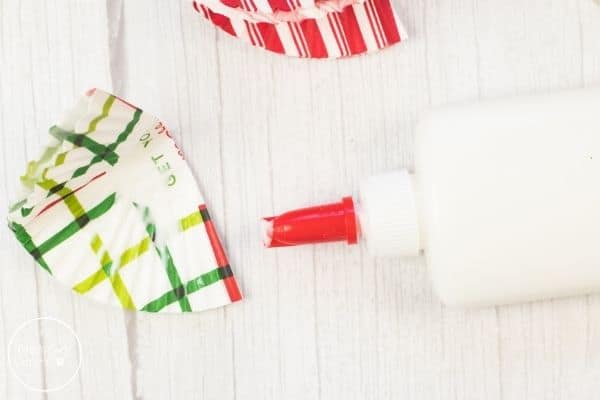 5. Repeat until all your triangles are glued closed, then set them aside to dry.
6. Next, repeat the process with the mini cupcake liners.
I used 2 folded mini liners for my project. One is folded like the standard size cupcake liners, and the 2nd one is folded three times to make a smaller triangle for the base of the Christmas tree.
7. After the cupcake liners are completely dry, apply several dots of glue down the craft stick.
Less is more where the glue is concerned. If you use too much, it could bleed through the papers and show on the front of the layers.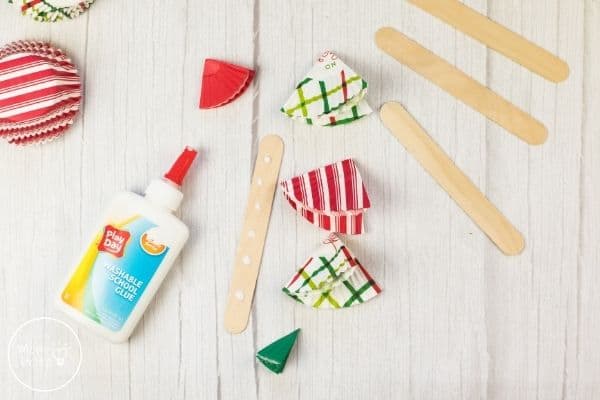 8. Starting from the bottom, apply a small amount of glue to the mini cupcake liner you're using as the tree base and place it onto the popsicle stick. Press down firmly.
9. Wait a few minutes and repeat with the next larger triangle, moving your way up, spacing evenly. When you reach the top, you'll want to use the mini cupcake liners to make the smaller shape of your holiday tree.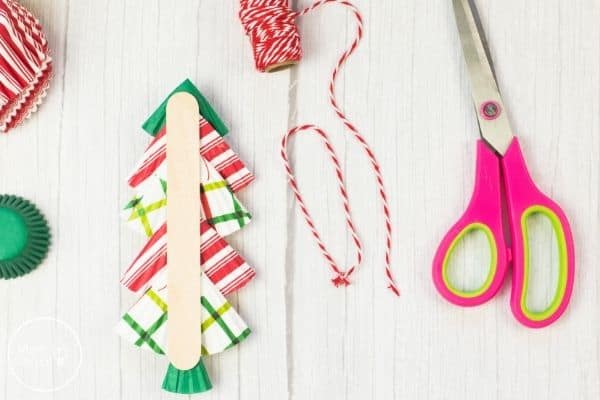 10. After the tree is dry, cut a length of baker's twine approximately 7 inches long, fold it in half, and tie the ends together in a small knot.
11. Apply a dime-size dot of glue to the top back of the craft stick about one inch down from the top and secure the hanger.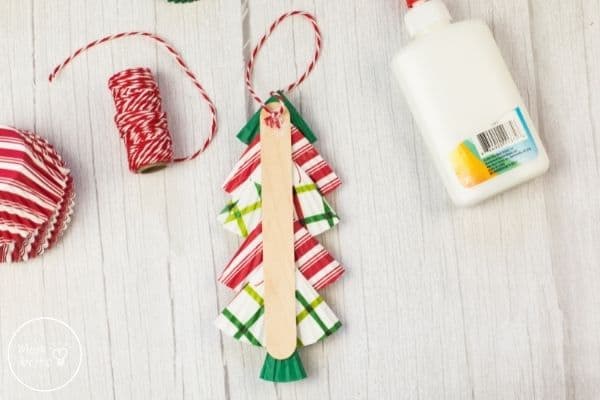 12. Allow the glue to dry completely before hanging your ornament on your tree.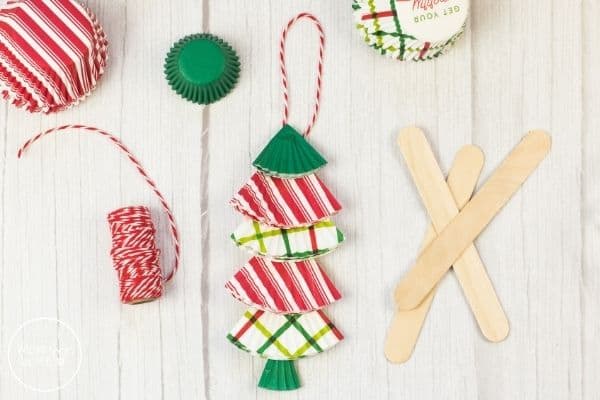 I hope you enjoy making these adorable cupcake liner Christmas tree ornaments. They make sweet ornaments, but would also look great on display on doors throughout the house, or strung together to make a unique Christmas banner.
There are so many ways to use them, I can't wait to hear how you decorate with them!
---
Related Posts: