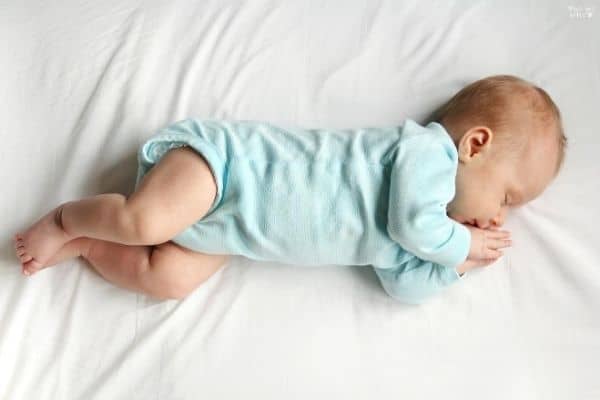 If you're in the market for a new set of crib sheets, your biggest concern is more than likely the comfort and safety of your baby. This then leads you down the rabbit hole of trying to balance everything out between options to find the perfect one for you so that you get exactly what you want.
Lucky for you, the research has been done for you, just read on to learn more about some of the best options out there.
Let's take a look at 7 of the best crib sheets available on the market today!
7 Best Crib Sheets
American Baby Company 100% Natural Cotton Value Jersey Knit Fitted Portable/Mini-Crib Sheet
From one of the biggest names in the baby industry, American Baby Company offers its 100% Jersey Cotton knit fitted portable/mini crib sheet. Designed specifically for portable and mini cribs, this option from American Baby Company is the optimal choice to take with you any time you're on the go or if you use a mini crib in the nursery.
Made entirely of cotton, this quality crib sheet offers a super soft feel for exceptional comfort for the baby. With its deep pockets and full elastic band, the sheet stays in place to ensure the baby will always be comfortable while laying on it. All of this combined with the fact that it comes in a multitude of colors and prints makes this the best choice for a portable or miniature crib.
Pros:
Ultra-soft tee shirt like feel makes this crib sheet incredibly comfortable for your baby.
Easy to clean since it is machine washable and can be tumble dried. No need for dry cleaning or any special cleaning procedures.
Cons:
Not for a standard size crib. This item is designed for mini crib mattresses with dimensions of 24" x 38".
QuickZip Crib Sheet Set
With reflux and potty training, you might be finding yourself constantly changing out your baby's crib sheet in the middle of the night. The QuickZip crib sheet set makes taking off and putting on the sheets much simpler and hassle-free.
The patented SecureFit Wraparound Base wraps the bottom & the sides of the mattress to let you take the Zip-On Crib Sheets on & off without breaking a sweat. All QuickZip crib sheet sets are compatible with crib flat mattress pads.
Pros:
Zip crib sheets on and off with no hassle. This design makes it a breeze to quickly swap out crib sheets for cleaning or to change it out for a different color or pattern.
Wraparound base fits standard crib mattresses with dimensions of 52" x 27" and a depth of 5" to 7".
All Zip-On crib sheets are interchangeable and work with the included base so it's easy to find your favorite color or design.
Cons:
Expensive upfront costs with the need to get the wraparound base that the crib sheets attach to.
Zipper jams and failures, though rare, can lead to a headache and slower changing times than a normal fitted sheet.
Burt's Bees Baby Fitted Crib Sheet
The baby-centered branch of the popular healthcare brand, Burt's Bees Baby offers their 100% organic cotton crib sheet designed for standard crib and toddler mattresses. When a product comes from Burt's Bees, customers typically expect to receive a high-quality, organic item whether it's their famous lip balm or this crib sheet; and this is no exception!
The high-quality organic cotton of this crib sheet is jersey knitted to offer premium comfort for the baby and to be as gentle as possible on their sensitive skin. Not only is the sheet top-quality, but Burt's Bees Baby also offers this product in a variety of colors and patterns that enable you to design the nursery any way you want it!
Pros:
Made of extra-soft organic GOTS certified cotton to give your baby the maximum comfort that they deserve.
BeeSnug 360 technology offers elastic around the entire perimeter of the crib sheet to ensure that it stays in place and your baby is as safe as they possibly can be.
A large variety of colors and styles are available for you to mix and match and make the baby's room exactly like you always wanted it.
Cons:
More expensive per sheet due to the organic cotton that is being used. Organic materials cost a premium but they do offer extra benefits as well that need to be analyzed for each situation.
The size is about 0.25" – 0.50" off in some cases depending on the crib mattress that you have and some buyers have had issues with the fit for this reason.
EVERYDAY KIDS 2-Pack Fitted Crib Sheets
If you're in the market for a nice set of crib sheets at a great price, then the EVERYDAY KIDS 2-pack is the perfect option for you. With a plethora of colors and patterns available to you, this pack of two is cheaper than most single packs of other crib sheets. So you know you're getting a great deal even if you order a few extras to nail down exactly what you like most!
Made of 100% microfiber, these crib sheets are soft, breathable, and hypoallergenic to help your child get the best sleep that they can. Offered in boys, girls, and unisex colors and patterns, you should have no trouble finding the perfect set for you and your baby!
Pros:
This 2-pack is offered at such a low price that it's one of the best values you'll find on the market for quality crib sheets.
Made of 100% breathable microfiber that helps babies feel comfortable and safe and promotes the best sleep possible.
Cons:
Microfiber is typically seen as a slightly inferior quality to 100% cotton that many of these options are made from when it comes to softness and feel.
Microfiber can be less forgiving when it comes to dirt and stain removal when compared to cotton.
American Baby Company Heavenly Soft Chenille Fitted Crib Sheet
American Baby Company is offering arguably the softest and most comfortable crib sheet on the market. Made of chenille, this crib sheet truly does offer heavenly softness to your baby's crib.
Designed to snugly fit standard size crib mattresses, this crib sheet from American Baby Company will stay in place and act as a velvety cloud for your baby to sleep on. Easily maintained with a washer and dryer, you can't go wrong with this crib sheet.
Pros:
The chenille material choice makes this crib sheet one of the softest options available on the market today.
9" pockets make this sheet fit incredibly snug on your baby's crib mattress so you can rest assured knowing that it will stay in place and your baby will stay safe and comfortable.
Cons:
The material is very soft but also thin, so if the spits up or drools it is pretty likely to soak through onto the mattress itself.
Chenille is a static hub when washed and will collect dust more quickly than other materials.
Brolex 2-Pack Stretchy Crib Sheets Set
If you're a fan of 2-packs for a bit of added value, then the Brolex 2-pack stretchy crib sheet set should be added to your shortlist. This set of polyester, jersey knitted crib sheets are incredibly soft and are designed to fit standard crib mattress sizes.
Offered in a wide variety of fun designs and patterns, these sheets from Brolex will give your baby's crib the perfect finish to look just like you always hoped it would.
Pros:
Machine washable makes it easy to keep clean and fresh so you can give your baby the best crib sheet possible.
Jersey knit design offers a super-soft finish for your baby so that they stay asleep and are always as comfortable as they can be.
Cons:
Made of polyester which is typically an inferior product to cotton for crib sheet purposes.
Designed to be super stretchy, these can sometimes appear to be too small if they are not stretched enough.
TILLYOU Microfiber Silky Soft Crib Sheet
If you are a fan of microfiber sheets and are looking for an affordable, quality set of crib sheets, this option from TILLYOU is the perfect choice for you. These are made of extra-fine microfiber fabric to offer a silky soft material for your baby to fall asleep on and stay asleep on.
Designed to fit standard crib mattresses and offered in a wide variety of colors, TILLYOU makes it easy to find exactly what you're looking for quickly and easily. All of the options come with a fully encased elastic band around the bottom of the sheet to ensure it stays attached and keeps your baby safe.
Pros:
Variety of colors and patterns offered at an incredibly affordable price.
Machine washable and dryable makes keeping these crib sheets clean an easy undertaking.
Cons:
Microfiber is usually seen as an inferior product compared to cotton in terms of comfort and feel.
Crib Sheets Buyer Guide
When looking at crib sheets, there are a few main things that you should keep in mind while searching — the sizes of the crib that they are designed for, the material that they're made out of, and the procedures for keeping them clean.
Crib Sizes
One of the most important things to keep in mind while shopping for crib sheets is the size of the mattress. You'll need to know if you're shopping for a standard-sized crib or a mini crib so that you can be sure you buy the right sheets that fit.
Material Used
The most common material used in crib sheets is cotton, as it has a lot of great features including softness, breathability, washability, and more. Other common options include microfiber, polyester, and chenille. You should have an idea of the material that you're looking for to help narrow it down.
How They Are Cleaned
One of the worst things to find out after it's too late is to go to clean your crib sheets and realize that they need to be dry cleaned or something similar. Be sure to keep in mind whether or not the sheets you're looking at can be machine washed or not.
FAQs
How many crib sheets do you need?
Answer: This answer will be different for everyone and depends on a few different factors. How often you plan on changing the sheets, how often your baby drools on the sheets or has an accident leak through, how sensitive your baby's skin is, and more. With all that in mind, you should feel comfortable having anywhere from 3-5 crib sheets. With regular laundry and cleaning of the extra sheets, you'll always have plenty on hand.

When can you use a blanket in the crib?
Answer: It is recommended by the American Academy of Pediatrics that the baby's sleeping area remain free from soft objects and loose bedding — including a blanket — for at least the first 12 months. With that said, it's important to continue to monitor your child's sleep patterns even after this time to make sure that the blanket is not causing them any harm!

Is buying organic cotton crib sheets worth it?
Answer: Organic cotton crib sheets typically cost a noticeable amount more than the standard, non-organic counterparts. So deciding on whether or not it's worth it will depend on what that price is worth to you. Organic cotton is grown without all of the pesticides that are used for non-organic sheets. This means that there is no chance of pesticide residue potentially being left in the sheets, and the pesticides will not be harming the environment. If those reasons are worth the additional cost, then organic cotton may be worth it!
Conclusion
Any time you're looking for crib sheets for the baby's crib, you always want to make sure you're getting something that is soft and comfortable for the baby but doesn't break the bank either. You want to keep in mind the size of the crib you're shopping for, the material you want, and other factors before you make a final decision.
Once you've figured out the answers to those questions, your search for the perfect crib sheet set will be much easier than you thought! No matter what you're looking to get out of a set of crib sheets, chances are high that at least one of the options on this list will be perfect for you!
YOU MAY LIKE: