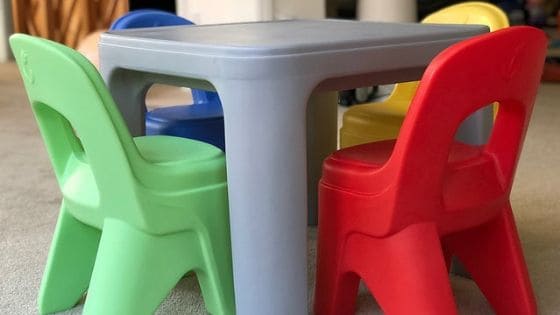 "I can do it by myself!" is one of the most heard phrases in my house. With my daughter starting to learn to do things by herself at 20 months old and with my son who is 3 going on 18, both of my kids are pushing me away as they gain more and more independence. However, to encourage and support their independence, it's important that, as parents, we set up a safe environment and provide the necessary tools for the children to succeed.
Imagine how difficult life must be for your children as they learn to do things themselves, but everything is too tall or too big for them. This is why a child-sized table and chair set is extremely important in our children's development into independent human beings. Let's take a look at the benefits of having a kid's table and chair set.
Benefits of Children's Tables and Chairs
1. Teaches practical life skill and table manners:
Children can help set the table prior to mealtime and clearing and cleaning the table afterward. My children love wiping the table and even take time to carefully check everything to ensure they get all the dirty spots off the table and chairs.
2. Allows for quiet time:
The table is not used for just mealtimes. My children use it for doing arts and crafts, playing with playdough, practicing writing skills, reading, and much more. Instead of running around like cave people and destroying the house, my children are able to sit down at the table and do some quiet activities. This allows mommy to stay sane … most of the day anyway.
3. Promotes good posture and comfort:
Imagine having to sit with your legs dangling all the time while eating. I know I wouldn't be comfortable!
The small chairs allow children to sit with their feet flat on the floor and back against the chair (as opposed to a booster, which provides no back support). Moreover, the children can adjust their distance away from the table to ensure that they are not straining their shoulders or backs trying to reach their food.
4. Supports independence:
The children are able to sit on and get off the chairs on their own. Instead of always needing adults to help them get into the high chair or booster for mealtime or playtime, they are now able to make their own decisions as to when and what to eat or do since they have a place they can sit down and eat their food or do their activities. For example, when my children want to draw, they would just go and grab a piece of paper and crayons and sit down for some quiet art time.
5. Encourages healthy sibling interaction:
My daughter follows her older brother around everywhere, wanting to do anything and everything he does. Most of the time, a fight ensues because she tries to interfere with what he is doing or he doesn't like how she is always in his personal space.
Having everybody sitting in a chair allows the kids to sit and play together on the same table, but each with a space to call their own. And instead of having the older sibling sitting in a booster seat at the adult table and the younger toddler crying because she can't see what he is doing from the ground, a small table levels the playing field.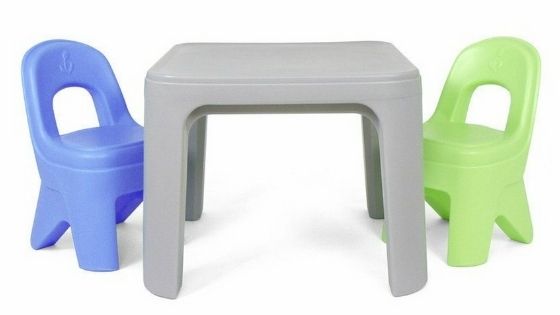 Simplay3 Play Around Table & Chair Set Review
Now, I know what you are thinking … I love the idea of having a children's table and chairs set, but which one should I get? There are many options when it comes children's tables and chairs. We personally love the Simplay3 Play Around Table and Chair Set for the following reasons:
1. Easy to clean: When you eat all 3 meals and do tons of activities with your children at the table, you definitely appreciate the smooth surface that is easy to clean. Even for marker stains, you just need to spray the surface with some water and then wipe with a paper towel to remove the stain.
My daughter loves to help me clean – in fact, after she wipes off the table, she decides that all the chairs need some cleaning as well! 30 minutes of independent play so mommy can get some chores done PLUS clean table and chairs? Score!
2. Safe: When we had a wooden table, we were always concerned about the corners and edges being too sharp since my kids love to run around the table and it's at a perfect height that if one of them falls, he or she can hit his or her head pretty hard on it. Thus, we love how the Simplay3 Play Around Table and Chairs have no hard edges and round corners so that we don't have to worry about our little ones' safety.
3. Durable: Prior to getting the Simplay3 Play Around Table and Chair Set, we owned a wooden table and chair set that broke down because it could not handle my children's constant wiggling. Comprised of many different wooden pieces and screws, the legs of the table and chairs kept getting loose and eventually the wooden pieces split and one chair completely collapsed.
We love the Simplay3 Play Around Table and Chair Set because there was no assembly required as each piece is a single molded piece. With the way the pieces are designed and manufactured through rotational molding, you can tell that the chairs and table are very strong and stable and will outlast my children's constant movement.
4. Easy to carry: The table and chairs are lightweight, so my children can easily carry them around the house. My daughter can just slide her arm through the opening in the back of the chair and move her chair around the house to wherever she needs it, and she does it without much trouble at all.
5. Spill-resistant edges: The edges of the table are slightly inclined to prevent any liquid from spilling over onto the ground. This feature is actually the first thing my husband noticed about the set because when you have two toddlers, accidents happen! All the time! Especially when they are fighting over a cup of milk or juice, the inclined edges really help minimize the mess on the carpet.
6. Perfect for indoors or out: We use the set indoors in the winter, but due to the durable plastic material, I can see us moving the chairs and table outdoors in the summertime. It would be perfect for eating some yummy grilled burgers and veggies in the backyard!
7. Tip-resistant: I am not exaggerating – before getting the Simplay3 Play Around Table and Chair Set, at least one of my kids tipped over backward in his or her chair every single day. Sometimes they did it on purpose to freak mommy out, but most of the time it was by accident. And every time it happened, I would have a mini-heart attack.
Thankfully, with Simplay3's tip-resistant design, my children have not yet been able to tip over one of their chairs. My husband and I even tried to kick ourselves backward to see if we would fall over, and it would take quite a bit of effort to do so. Fewer heart attacks? Yes, please!
8. Adorable design: I love the design and colors of the table and chairs! You get the periwinkle and lime chairs with the set, and you can get additional chairs in hot tamale and lemon colors.
As you can see, we love our Simplay3 Play Around Table and Chair Set and I foresee us using it for years to come. For more information on Simplay3 Play Around Table and Chair Set, visit the Simplay3 website! To get updates on new products and learn more about current products, follow Simplay3 on Instagram and Facebook. They make products like mailboxes for grownups too!