This post may contain affiliate links. That means if you click and buy, I may receive a small commission (at zero cost to you). Please see my full disclosure policy for details.
The first year of your baby's life flies by so fast that you will be amazed at all the firsts that happen. Each month brings new developments, holidays, and surprises. Don't run the risk of missing out and forgetting key moments and memories.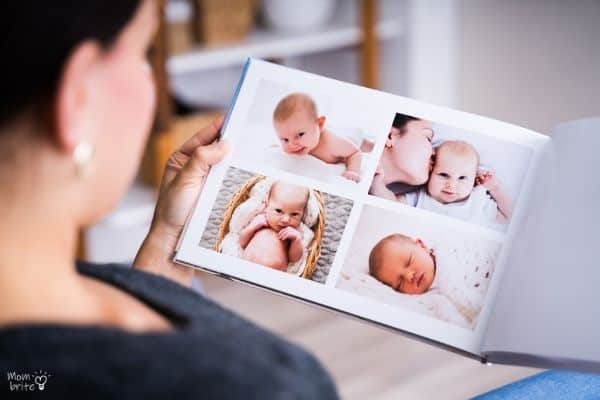 The best solution is a baby memory book that helps you record everything from accomplishments to photographic memories. Over time, you can fill the book with beautiful things and stories and create something to look back on as a family. But, to do so, you need the right book.
The following 10 products are some of the best baby memory books around right now. They all have brilliant designs and features to help you record everything you want to with ease. Hopefully you will find something perfect for your child's journey.
Top 10 Baby Memory Books
1. Le Petit Baby Book
The interesting thing about Le Petit Baby Book is that there is a visual appeal for kids too. While there are lots of activities and features for parents to get involved with, there are also pretty pages and interactive elements for kids. This means you can go over the book together with your child when they are old enough to appreciate it.
These interactive features include a spin wheel for their astrological sign, a pull-out family tree, and pop-up features here and there. The designs throughout this book are very cute, with lots of illustrations of nature and woodland creatures.
There is a calming feel to this hardback book, which makes it a wonderful item to enjoy together on days that are a little more stressful. Keep updating it with your baby's progress to create something beautiful.
2. The Amazing Baby Memory Book by KiddosArt
KiddosArt brings us something a little brighter and bolder in baby memory books. This one still has an animal theme, just in brighter colors with strong characters of pandas, monkeys, lions, and more.
The basic premise of this book centers around the idea of firsts. There are designated pages with related illustrations about "My First…". This ranges from major holidays to other family celebrations.
Much of this baby memory book is geared towards the child's experience and enjoyment, with that sense of personal ownership and achievement. They get stickers for each month and a greater sense of accomplishment.
While this is predominantly a photo album, with prompts for photographic events of milestones like baths and solid food, there is also room to add notes. There are also spaces for memories of what life was like for both parents during this period.
3. Ronica First Year Baby Memory Book
Animal themes are top sellers in the best baby memory books and this is another great example. The Ronica Baby Memory Book is full of pages that record all kinds of milestones in the first years of your child's life. There is room for square photos and plenty of notes to make this as detailed and personal as you can.
What immediately stands out here is that you can get this book in four styles. There is the jungle-themed book in green, which is meant to be the gender-neutral one. Then there are alternative versions in pink or blue if you prefer to go with more traditional schemes for your child. There is also a farm-themed design.
Again, there are lots of stickers that you can use to celebrate those moments like little awards. There is also a secure envelope at the back of the book for loose items related to those memories.
4. Letters To My Baby
Most of the baby memory books in this guide focus on gradual storytelling. There are pages to fill in month by month to document your journey. As a result, you end up with something that is more for yourself as a parent than your child.
The Letters To My Baby book takes the concept and reinvents it. Here you will find 12 different letters within a cute hardcover folder. Each one has a prompt for you to write out your memories and speak directly to your children, such as their birth, first home, and other milestone events.
From there, all you need to do put it in its corresponding envelope and seal it with a sticker. Each letter is then secure and ready to give to your child when they are older, perhaps during a similar milestone event or birthday. This special book becomes a cherished time capsule with long-term appeal.
5. C.R. Gibson Bound First Five Years Baby Book
Moving on to these "Sweet Baby Girl" and "All Boy" books, we have something a lot more traditional than the gender-neutral options above. There is a focus on the lives of "Mommy and Daddy" and how they fit into the equation.
As you might expect, the girl version means a lot of pick, ribbons, lace, and flowers. The pages are all very cute and old-fashioned with the picture frame designs and fonts. It is also more tailored to a classic view of a baby book.
But, that doesn't mean there isn't plenty of space for memories and details. There is a lot of room to write about experiences and accomplishments. There is also a more traditional family tree in there to fill out.
On the flip side, the boy version features a blue pattern and belt, as well as helicopters and cars. Like the girl version of the memory book, it contains themed pages such as the family tree and pregnancy chronicles.
6. Lucy Darling Little Animal Lover Memory Book
This next book is sold as a simple baby book of firsts for animal lovers. What is impressive here is the range of animals included, which kids can learn from as they get older. The designs are also really cute and colorful.
The events and themes within the baby memory book are wide-ranging. A lot of the book documents events like birthdays and milestone achievements in baby's early years. But, there are also sections on the pregnancy, birth, and first day of school.
The range, colorful design, and ease of use turn this pretty photo album into something you can treasure for a long time to come. The hard cover and solid pages are also built to last.
7. C.R. Gibson Animals 'Hello World' Baby Calendar Baby First Year Tracker
This next baby milestone calendar has an interesting design that blends modern and traditional ideas. On one side, it looks vintage with illustrations and colors that look like an embroidered tapestry. On the other, there are lots of cool stickers with a fun gender-neutral animal theme.
A calendar might be a better option than a book for busy parents that want to make the most of this journey. You can hang this up and add one of the many stickers to the date each month. Or, you can just write in the spaces.
This adorable calendar also has space above with prompts on stories and memories. You can record current likes and dislikes, favorite toys, and other discoveries. There is also room for your favorite picture of that month.
8. Baby First 5 Years Memory Book Journal
It is nice to see companies creating a baby memory book that is open to all families. Here, the designers have been careful to keep everything neutral and adaptable so it is just as rewarding for same-sex couples, adoptive parents, and single parents.
The memory book still manages to take parents and kids on a long journey through the pregnancy and birth right through to their fifth year. This means lots of memories and developments to add to the pages. There is also a keepsake envelope at the back for loose items.
There are two designs to choose from – Wonderland and Adventureland. Both involve cute illustrations of woodland creatures and beautiful page layouts. The design and storytelling should keep kids engaged as they go over their life and accomplishments.
9. Bobee Baby Journal Memory Book
If you aren't looking for animals or traditional themes, this Bobee simple baby book is a little different. There is a minimalist approach to the design, with lots of shapes and interesting colors. There are pink and blue versions, but they aren't strikingly different.
The creators have gone further with this idea of minimalism and openness by removing some of the standard milestones and providing blank pages. This is perfect for families with alternative cultural backgrounds or lifestyles. It also helps to make the book a little more personal.
This memory book takes parents on the baby's journey through the first 5 years. The hardcover and thick pages mean it should last a long time and look great throughout.
10. Tiny Gifts First 5 Years Baby Memory Book
Finally, the Tiny Gifts baby milestone calendar is a brilliant way to record everything your child does within the first 5 years of your child's life. It offers prompts on details to note down, including all the things they have learned to do in the first year of development.
The design is engaging, with room for 6×4 photos and little cartoons here and there. There is also a deliberate attempt to make this as gender-neutral as possible for wider appeal. The diversity of features and ideas, as well as the wide 5-year span, make this a great gift for new parents.
Two cute little details of interest here are the little envelope at the back and the ink pad. The envelope is perfect for little keepsakes from trips or events that you can't stick into the book. The ink pad is perfectly safe for you to use for footprints and handprints on the appropriate pages.
How to Choose the Best Baby Memory Book
It is important that the baby memory book that you choose meets your needs, especially if you choose one that lasts for 5 years. So, ask yourself the following questions.
Does this book cover enough milestones and events for a well-rounded journal?
Can I add photographs with ease?
Is there enough space to write about my experiences?
Is there an envelope for loose items and keepsakes?
Is this going to be engaging enough for children as well as adults?
Is the book going to last?
It is important to find a baby memory calendar that covers everything you want to record. Some may be too basic with limited space, while others may focus on holidays and events you don't celebrate. If there isn't a page for a specific event, make sure there is an envelope at the back for additional items.
Then there is the design of the book. Do you want something a little more grown-up for you and your partner, or something cute that kids will enjoy too? Books with stickers, pop-ups, and pull-outs are great for kids as they get older.
The design could be bold and busy or a little more gentle and calming. You can also decide if you want a gender-specific or gender-neutral book. Look to see if there are alternative themes with different animals or colors too.
The pages of the book have to be practical as well as engaging. Are there enough spaces for photographs and, if so, what size? Also, is there enough room to write in the book and document all the memories along with the "firsts".
Some books go for the "Instagram" square aesthetic instead of the typical 6×4. This could mean some cropping or reprinting. You don't want this to become a chore.
Finally, is this book going to last? Some of the best baby books are hardback for extra strength and protection. They will also use acid-free paper for preservation and may also come with a box for safe-keeping.
Find the best baby memory book that you can cherish for a long time.
Conclusion
If you have a baby shower coming up, point family and friends in the right direction of a baby memory book you know you will love. They make a beautiful pregnancy present for first-time moms. Take your time to browse different designs and layouts to see which will turn into a great family story. Don't settle for something that isn't going to work.
When you find the right book you will have some special that you can work on with pride and joy for either a year or five years. It will become a treasured memento and an important document of a magical time in your life.
YOU MAY LIKE: