Breastfeeding is a natural part of life, but that doesn't mean it's always easy. While you can't control some things, such as mastitis or a baby that doesn't want to feed, you can choose what you wear. In this guide, we'll reveal our picks for the six best nursing tops and explain why you need to wear them.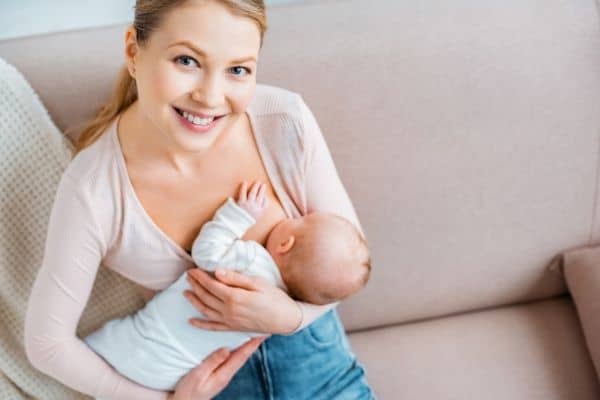 Do You Need a Nursing Top?
You might not want to spend extra money on a nursing top, but there's no denying that they make life a lot easier. When your baby is hungry, it wants to feed, and it doesn't matter where you are. Regular tops are fine for home, but imagine being in public and having to pull your top-up. Public views of breastfeeding are changing, but if you're self-conscious, you probably won't want to draw attention to yourself. 
Nursing tops are designed to make breastfeeding more comfortable and discreet. If you're happy lifting your shirt in public (and you have every right to), then that's great! But most moms prefer using nursing tops because they keep the stomach area covered. Most importantly, they have zips or layers which you can move when your baby is ready to feed.
Things to Consider Before Making a Purchase
Nursing tops don't come in one size or style. There are loads available, which is what makes them so perfect for nursing moms. The most common types of nursing tops you'll find are:
| | |
| --- | --- |
| Double- Layered | The top can be lifted and the panel pulled back |
| Side-Panels | Panels can be pulled across your chest |
| Draped Neck | Easy to move to one side |
| Draped Buttons | Can be undone and moved to the side |
---
Is the Top Comfortable?
You're buying a nursing top, and you'll probably spend a lot of time wearing it, so make sure it's comfortable. Breathable fabrics are best, including rayon, nylon, and polyester. Most nursing tops feature a combination of one of these materials and spandex for smoothing out unwanted lumps and bumps.
Will it Last?
You'll pull and stretch your top a lot because you need to move it for nursing. One of the biggest problems women face with nursing tops is their durability. If you're happy putting style over sustainability, then that's understandable, but if you're on a budget, make sure the top will last.
What Style Should You Choose?
There are so many styles out there, so shop around and see which ones you like best. Remember, some styles aren't suitable for the office, but you can buy a range of tops for different occasions. If you're on a budget, you can combine a nursing top for the office with jeans to make it more casual.
The 6 Best Nursing Tops
We've been hard at work trying to find the best nursing tops for all occasions, and we've narrowed it down to six choices. Here are the six best nursing tops.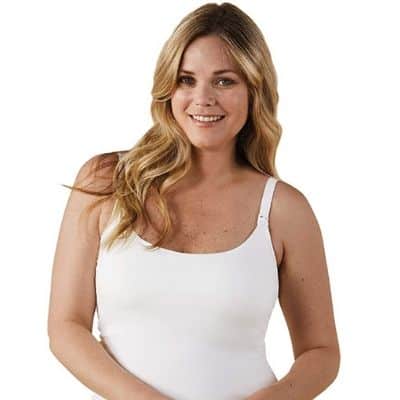 Bravados nursing top may not look like much, but it's designed to give you the confidence to look great and feel secure while you're out and about. The top comes in a range of sizes starting from small to XXL and has detachable straps so you can nurse discreetly.
We love Bravado's slimming top because the built-in design means you won't need to buy a nursing bra. You can also wear the top under a blouse for evening wear, or keep it simple with some maternity leggings. One disadvantage of the slimming cami is it can roll up, so you might need to buy a size up. 
| | |
| --- | --- |
| Pros | Cons |
| Can be worn in a range of styles | Sizes come up too small |
| Built-in bra | |
| Removable straps | |
---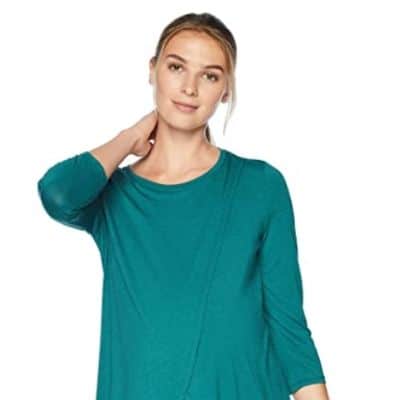 Not only is Motherhood's maternity top practical, but it's also a great addition to your wardrobe. The tulip design means you can breastfeed in public without having to worry, and with three quarter length sleeves, it's ideal for both summer and autumn wear.
The shirt comes in a range of sizes and colors, but don't expect to get what you ordered. The shades tend to vary, but it's not a massive deal because each top looks terrific. If you want to combine convenience with a top that covers your postpartum body, then Motherhood's maternity top is worth looking at.
| | |
| --- | --- |
| Pros | Cons |
| Tulip style | Colors don't always match the photo |
| Covers stomach | |
| Ideal for all seasons | |
---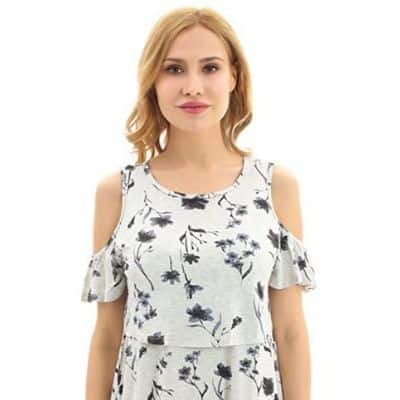 It's challenging to find a nursing top for summer, but Bearsland has created a floral design that covers your stomach. Made from Modal rayon and spandex the top smooths out unwanted lumps and bumps, but also offers a lot of practicality for breastfeeding.
Double front layers allow you to breastfeed in public, and the pretty top is suitable for a range of occasions. The shirt can run quite long, so if you're looking for a short top, this isn't the one for you.
| | |
| --- | --- |
| Pros | Cons |
| Great for summer | Can be too long for some people |
| Covers stomach | |
| Double front layers | |
---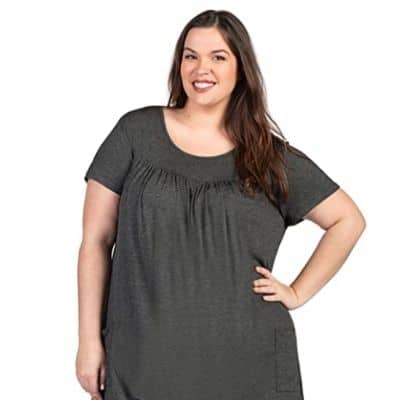 Savi clothes are made for moms, by moms, so you know you're getting a practical top from people who know what they're doing. Their plus sized nursing top is stylish, functional and comes in a range of sizes up to 4X.
You can nurse in public quietly, with the dual fold front, and the top is light enough to not cling to your body. One thing to note is the sizes run large, so order a size down if you want a tighter fit. Overall, we can't fault Savi Mom's maternity top, which is available in a range of colors, and the soft material feels great.
| | |
| --- | --- |
| Pros | Cons |
| Plus-size top | Can be too large for some people |
| Dual fold for nursing | |
| Soft material | |
---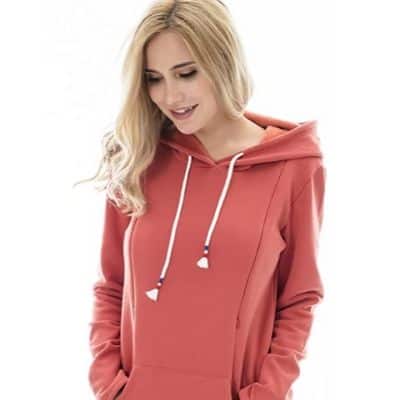 The first thing we noticed about Bearsland's nursing sweater is how much it looks like an ordinary hoodie. There's no clue to it being a nursing sweater, so you don't have to worry about fitting in. The zip cut-outs are concealed, but you can remove them when you want to nurse.
Available in a range of colors and patterns, this nursing sweater offers something to everyone. It's ideal for winter and has a fleece inside to keep you warm through those cold months. You'll probably need to wear a top underneath the sweater to protect you from the concealed zips, but that's the only negative we can find!
| | |
| --- | --- |
| Pros | Cons |
| Ideal for winter | Zips can irritate the skin |
| Concealed zips for nursing | |
| Covers your hips | |
---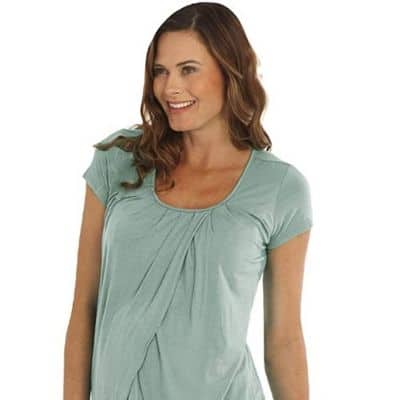 You probably won't take your baby to work with you, but you'll need to pump regularly, and Angels maternity tops make the experience hassle-free. The draped neckline makes nursing convenient, and the top comes in a range of tasteful colors.
Available in a range of colors, you can use it as an everyday shirt or save it for the office. Angel Maternity has created a fantastic nursing top with pleather shoulders, which means you can wipe off spit ups. Overall we love this top and really can't fault it.
| | |
| --- | --- |
| Pros | Cons |
| Ideal for work | |
| Draped neckline | |
| Easy to clean | |
---
The Bottom Line
Nursing tops are a great way to enjoy raising your baby but not compromise on daily activities. Whether you're pumping at the office, or nursing in a restaurant, these tops offer convenience, practicality, and designs to suit all styles. Before you buy a top, remember these vital points:
What style do you want?
Where will you wear the top?
Is the material breathable?
What's your budget?
Now you've seen the six best nursing tops; it's time to make your decision.
Are you enjoying watching your baby develop? Check out our complete guide on baby sign language.